Another week, another installment. This week, it's the Pitt Women.

The rules? I will supply you with the names of two people. You have to choose which one you would jump. Do not let your sexual orientation get in the way of playing. Do not let the living status of the options get in your way. You must choose one of the two. Suicide is not an option. "Jump," of course, is a polite way of saying "having your way with sexually." (But you knew that, didn't you?)

First up is actress, adoptive mother, U.N. ambassador for goodwill (or some such title), and current Pitt flame
Angelina Jolie
. An Oscar Winner for Girl, Interrupted, Angelina is one of the most bankable Hollywood women today. She and Brad joined forces -- personally and professionally -- for the film Mr. and Mrs. Smith. She does quite a bit of humanitarian work for the U.N. and on her own. She's done many films, most recently portraying Jason Pearl's wife Mariane in A Mighty Heart. All told, she's got four kids, one adopted prior to her relationship with Brad. She's also got tattoos galore and a hell of a reputation of a somewhat kinky nature.

Jump Two is Friends actress and Brad's ex-wife
Jennifer Aniston
. For some, the wedding of Jennifer to Brad was akin to the Prince Charles and Diana Spencer wedding. They were seen as Hollywood royalty, and their relationship and subsequent marriage made them a golden couple. Jennifer was clearly seen as the wronged wife and Angelina the home wrecker, although there have been plenty of denials that anything happened between the co-stars during filming. Although Jennifer clearly had success with the TV series, her films have met with so-so ticket sales.

So, who you going to pick?

Jump One?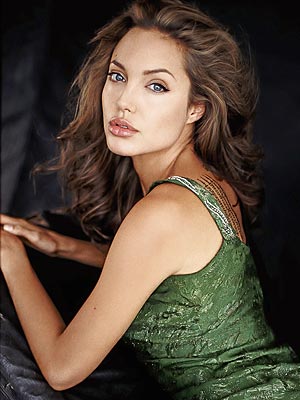 Or Jump Two?


I've had a gut negative reaction to Angelina, most likely stemming both from her relationship and marriage to Billy Bob Thorton as well as her rather icky relationship with her brother, for a number of years. As I've come to like Thorton more and more, that visceral reaction has diminished. Additionally, I've come to accept that she likely plays up her relationship with her brother for the camera's sake. Still, there's enough of an "ewwww" factor with her. And, quite frankly, she's just not my type physically. I guess I go for the clean California girl looks of Jennifer over the dark, smoldering looks of Angelina. I'd like to believe I'd opt for Angelina because of all the good she's trying to do in the world, but I just can't shake the blood vials and the sibling love and the home wrecker status. By default, it looks like I'm going with Jen, who, by all accounts, seems like a kind woman. Looks like I'm pretty shallow in the end.

How about you? Wanna play?

Comment below or do so on your own blog and let me know about it.
[Jolie photo from People.com; Aniston photo from MSN.com.]