Same rules as always: I give you the names of two people. You have to choose which one you would jump. Do not let your sexual orientation get in the way of playing. Do not let the living status of the options get in your way. You must choose one of the two. Suicide is not an option. "Jump," of course, is a polite way of saying "having your way with sexually." (But you knew that, didn't you?)
This week, I'm putting forth a couple of dead people. One was a princess of the people. One was as close to an American prince as you can get. (Not counting the artist formerly and once again known as Prince.)
Jump One is the very beloved and still very dead
Princess Diana
. I'm guessing there is no point in going into any detail explaining who she was. We all know, right?
Jump Two is the former heartthrob and still very dead
John F. Kennedy, Jr.
I'll make a leap of faith that not as many of us know the details ad nauseam of his life, but we know enough to make a good jump decision.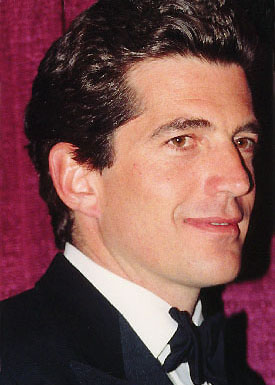 At least with both contenders dead there's none of that fear of being seen as a
necrophiliac
because I choose a dead one over a live one. I have to admit that I was much more moved by Diana's death than I'd really like to publicly acknowledge. I was not one of the hordes of young women watching the wedding. I didn't follow her life. I didn't care about her or Prince Charles or any of that. But I became involved with a Brit and I gave birth to my half-Brit boy in late 1996. When she died 10 years ago August 31, I cried. I watched the coverage. I watched the funeral. I thought of those two boys without their mum. And I transferred it all onto me and mine.
I paid more attention to John-John from the get-go. I had idol worship when it came to his father and his uncle. I attribute that to my parents being from Massachusetts and my being a sucker for accents. [The latter explains, in part, my involvement -- to this day -- with my Brit husband.] Anyway, when he launched George magazine, I paid attention. I thought he was smart. I thought he was good looking. I thought he would do the world good. Instead, he downed his plane in the ocean before achieving much of anything.
It's a tough one for me, kids, but I'm going to have to go with Di. Was some of her life pure silliness? Yeah. But some of it was meaningful and had an impact on the less fortunate -- those with AIDS and those threatened by land mines are two large groups of people who come to mind. And she seemed to try to do right by her sons. I'm jumping One.
How about you? Wanna play?