Last week, it was about two Jersey boys; this week, two former boys who may have frequented another Jersey. [Duh, the one in England. Keep up!]
Same rules as always: two people. Choose one to jump -- in the good sense, not the mugging sense. You have to choice one. Death by chocolate or some other substance is not an option. Don't let your or their sexual orientation -- or living status -- get in the way.
My friend and I, having both visited the same farmers' market last week, were boring regaling our spouses about the wacky performer. She likened him to Tom Jones. My husband countered that Englebert was the real deal. Thus another week of Jump One, Jump Twosday was formed. (You always wondered how I happened upon these choices, didn't you?)
Jump One is Tom Jones. Yes, the one and only. The
Welshman
to whom women threw their panties many years ago. I hear tell that some women are still throwing their undergarments his way. He's got "It's Not Unusual" under his belt, "What's New Pussycat?" and "She's a Lady," to name just a few. He's got this appeal that is inexplicable to some. Check out his very own
official website
to catch his vibe.
Many folks confuse Mr. Jones with Jump Two,
Engelbert Humperdinck
. Here's a Brit who changed his name from Arnold Dorsey to that mouthful. According to Wikipedia, it's the name of a famous German composer. (Whose fame, at least among the English speaking world, has not matched that of the pop singer.) He hit the big time with "Release Me" and had another hit here in the States with "After the Lovin'." And just so I can't be called unfair, here's the
official site
for Engelbert Humperdinck (nee Dorsey).
So, which crooner gets your fancy? Jump One?
Or Jump Two?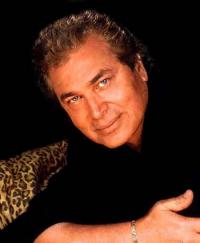 All right, it's got to be Tom Jones for me. There must be something about him that has women swooning. Maybe if I saw him in concert, I'd get that feeling, too. Hey, he's coming to Stockton this weekend. I wonder if tickets are still available? Another reason for my anti-Engelbert? He changed his name to that? There's something wrong with hiding your true self behind a name like that.
Cheerio! Wanna play?
[Jones photo by BBC.co.uk; Humperdinck photo from NNDB.com.]