As I age, my ability to retain information and recall events steadily diminishes. Back in the old days of newly blogging, I carried a notebook with me at all times to write down random thoughts. When technology came a'knockin', I ultimately just had my handy phone with me in which to write quick thoughts. Which is all well and good, really, unless your eyesight is deteriorating and, although you do believe that you'll need to have lasik because you see doomsday fast approaching and you know those with contacts and glasses will be the first to suffer when we start over in our post-apocalyptic world, you still have reading glasses and can't see what you're writing without them on.
Before I went to D.C., I not only bought a burner phone -- yes, intelligence community, I bought that just for you -- I threw a notebook in my purse so I didn't have to fumble around trying to keep a note of history happening before my very eyes. Wrote "#VOTUS" with a big-ass Sharpie across the front. Honestly, that was so I knew which way was up more than anything else.
Bad weather, cancelled flights, changed airport of departure, rerouting and all the rest found me at Reagan National airport on Monday. [Thank you, Delta, by the way, in all sincerity, for everything your employees did to ensure all of us resisters made it home reasonably on time.]
CNN posted a story about what happened next at National.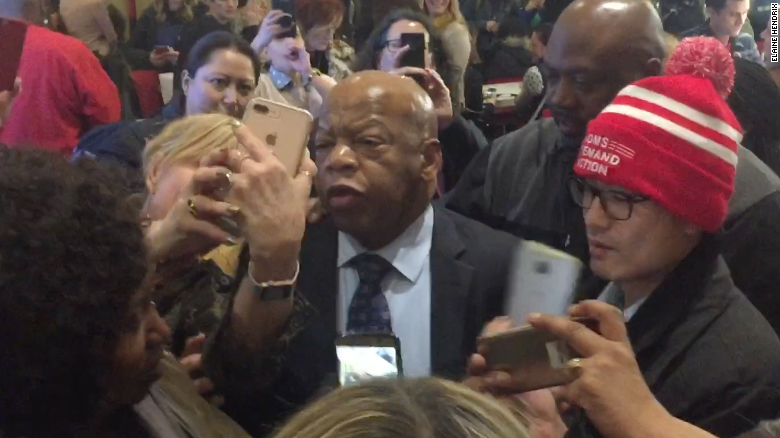 It was electrifying when I realized who it was. Just before this photo was taken, I had shaken his hand, told him what an honor it was to meet him, and I told him to stand tough against VOTUS. Yes, I even said "VOTUS." Then, I pulled out my VOTUS notebook and asked him for his autograph. He obliged. I was teary-eyed. The crowd was pulsing. "Yes, we can!" started as a rolling rallying cry.
For those of you not paying attention, that's Rebel Fighter Rep. John Lewis. I hope very few of you got this far without knowing that.